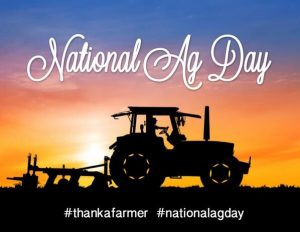 Agriculture provides almost everything we eat, use and wear daily. But too few people truly understand this contribution. Each American farmer feeds more than 165 people … a dramatic increase from 25 people in the 1960s. Quite simply, American agriculture is doing more – and doing it better. As the world population soars, there is an even greater demand for the food and fiber produced in the United States.
WHAT YOU CAN DO TODAY?
The National Ag Day program believes that every American should understand how food, fiber, and renewable resource products are produced, value the essential role of agriculture for a strong economy, and appreciate the role agriculture plays in providing safe, abundant, and affordable products.
You can take part in the national celebration simply by making a farm-to-table meal with your family, planning an activity to educate youth on agriculture, sharing photos related to agriculture on social media using the hashtag #foodforlife, or visiting local farms. The opportunities are endless.
The 2018 theme is "Agriculture: Food for Life" to tell the story of American agriculture and to remind citizens of the prominence of it in their daily lives.
Each year, National Ag Day is held during National Ag Week, which is organized by the Agriculture Council of America to celebrate all those who feed our world, care for crops and livestock, and bring awareness to agricultural production.