With all of the uncertainties of living in a global pandemic, the Coronavirus has brought alot of change in the way people are interviewing for open positions.  What hasn't changed is the importance of the FIRST IMPRESSION!!  Whether that's face to face or through the newest technology, putting your best foot forward is still very important!  Here is a GREAT article from the Career Bliss team on getting that next job right from the phone!!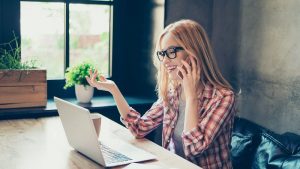 When it comes to phone interviews, many people tend to shoot from the hip, considering them just a casual "hello", so they end up leaving way too much to chance.  The fact is that 33% of recruiters know within 90 seconds if they want to hire you. So every moment and every impression is critical.
The good news is that, when approached with intention, phone interviews present a dynamic opportunity for you to make a vital first impression and shine. But doing so will take a bit of forethought and preparation.
So next time you score a phone interview be sure to follow these tips to make the most of your first call with the hiring manager.
Do your research ahead of time
Taking interest in the company and what they're doing goes miles in showing your enthusiasm for the job at hand. Unfortunately, not researching the company is one of the most common interview faux pas candidates make. Read up on the company and what they've been up to recently. If you want to be super savvy, read up on your interviewer too. LinkedIn isn't just for hiring managers to check you out. You should consider sleuthing out your interviewer's interests, education, previous jobs, and experiences as part of your interview prep time. Being able to chat with them about common interests or their experiences can help settle any nervous butterflies because you'll realize they are human just like you.
Choose your location wisely
Just because you have a mobile phone doesn't mean you should do your phone interview on a hiking trail or at the Backstreet Boys reunion concert. The best phone interviewees know that the right location is as important as every other step of the process. Make sure you're in a location with a good connection so nobody falls off the call. The volume and activity in the area also matter. If you choose a spot that's too loud, you may not be able to concentrate or hear your interviewer. If it's too quiet of public space, you may feel uncomfortable being the loudest one in the room. Find a place where you can speak, hear and be heard comfortably, without any distractions to shift your focus
Keep your resume and the job description with you
This is helpful because nervous energy (also known as excitement) can get in the way of recalling important information—like what you do every day on the job. By having your resume in front of you, you can ace the questions like the expert on yourself and your experience that you really are, and no one will be the wiser for it. Your phone won't tell.
Create a cheat sheet
If you're feeling a bit nervous, it can be easy to start rambling or forget some of the most important points or connections you want to make during your phone interview. If you have some specific talking points you want to be sure to hit, be sure to write them down. Good things come with good planning and prepping. This phone interview isn't a test of your great memory. It's time to discuss your experiences and qualifications. And a quick outline of important points and questions can help ensure you shine a light on your accomplishments and put your best foot forward.
Check your tone at the…door—er, dial tone
As you intentionally hit the 'call' button on your phone, remember to check your enunciation and tone. Adding a smile to your face can go a long way in shifting the tone of your voice, making it brighter and more enthusiastic. If you're excited about the job (and we hope you are!), make sure to let them know by the tone and clarity of your voice.
Ask plenty of questions
While you may not ask as many questions as you would during an in-person interview when both you and your interviewer are more invested in each other, asking the right questions is key. Remember, your interviewer is formulating an initial assessment to determine your fitness for the company and the job, and it's a two-way street. You should be doing exactly the same thing, determining if you really want to continue pursuing this company. If you decide that the company or job isn't for you, you'll have more time to continue pursuing jobs and going on interviews for positions that are perfect for you. Just make sure to save salary talk for the in-person interview.
Thank your interviewer
A quick email to your interviewer after the call is always appreciated. Not only does it give you the opportunity to once again declare your enthusiasm for the position, but your thoughtful intentionality can also help set you apart from the majority of phone interviewees who think that gratitude only matters for in-person meetings. If you haven't already asked, it's a good time to find out what the next steps are, and the time frame in which they'll be making a hiring decision.
Follow these steps and you'll be sure to impress your phone interviewer.
https://www.careerbliss.com/tips-trends/author/the-careerbliss-team/