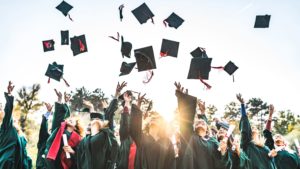 As another school year is coming to a close, it's time to look ahead to what the future has in store for you!  Maybe you've completed your first year of college – or maybe you will be walking across that stage to receive your long awaited Ag Degree.  You have hopes and dreams, plans to make and you're not real sure where to start.
Look for an internship in your field of study.  Many businesses offer fantastic opportunities to students that desire to have a career in their industry!  Cooperatives & Ag Retailers throughout the Midwest are always looking for the "hungry" individuals, ready to get both feet on the ground and running!  Expect to work hard, put in long hours and learn ALOT!
If you grew up on a farm, you know the growing process isn't something that is hurried.  The ground is worked, the seed is planted and then you wait.  You can't do anything in your own power to make that seed sprout any faster than it will.  You need sunshine and rain, you need proper chemicals and fertilizer, you need patience.  The same is true with your career and your future.
Employers are looking for the employee that is willing to start from the ground and work their way up by working hard, putting in the time and learning from those around them.  Advancement opportunities are all around you….but you need to be patient in the process.  Just like the seed needs the sunshine and rain, the right chemicals and fertilizers, you also need managers to lead you, you need training sessions to teach you, you need hands on time with the tools and the machinery.  And when the time is right, you will see your career sprout and grow into something amazing!
When the time comes to find that "real" job, here at Great Plains Consulting, our professional search consultants are here to walk alongside of you to find that right opportunity to fit your gifts and talents!  We are here to work for YOU!